Ingrid Agbo laughingly points out that "… I can't even draw a line."
This Paris-based Togolese director and camera operator didn't let her lack of experience in the art form stand in the way of working towards producing an animated series about African history. "…but I know what I want…and I have a lot of giants [in design and animation] around me." The story leading up to Annecy 2018 is in itself a uniquely African one.
Ingrid Agbo took the stage at the 2018 MIFA Animation du Monde pitching. It was the third time she would tell a room of mostly strangers about L'arbre à Palimpseste. This project is about two brothers who learn about historic African figures from the stories their grandmother tells them." Her nervousness was understandable but like in the previous sessions in Abidjan and Johannesburg her concept won judges over. Gulli, the French children's network, awarded it with a prestigious presale.
There are many stories that relay European and Asian history. Ingrid hopes that L'arbe à Palimseste will become a landmark series for historical figures from the African continent. " … if you talk about African history, heroes…this is something that, in a TV show, has not been done before." Ingrid said during a recent interview. Each episode is a short film about a person from history with the grandmother and her two grandsons as the only reoccurring characters. The boys represent our own ignorance of the past. Through them we learn more about these people.  "African history is full of important and inspiring – but sadly forgotten – characters. We wish to resume this transmission, to promote this fading legacy."
Annecy was the catalyst that the project needed to move forward. "Gulli here in France and in Africa is the channel for children, it is something very important to have that kind of broadcaster for children [as a partner]…we are very happy and proud" Ingrid said about the deal. The presale enables the L'arbre à Palimpseste team to approach more coproduction partners, distributors, and perhaps institutional funding. The project has come a long way since the initial pilot that Ingrid funded herself, "The first pilot cost a lot… but the result wasn't so good…animation costs a lot, if you don't put in the money you don't get the quality."
This was the beginning of her journey with L'arbre à Palimpseste. When she heard that African Animation Network had organised the Animation du Monde pitching session during DISCOP Abidjan 2017 she saw an opportunity. "The important thing about this pitching session…was to put talent together…" Through it she was able to meet with animation studios from across Africa and started to collaborate with two. "I didn't realise I could find collaboration with [an animation] studio in Africa." She worked with studio Basement Animation Studios in Nigeria to make a second pilot.
Mbuotidem Johnson, the creative director and producer for Basement Animation Studios was invited to speak about Animation Nigeria at DISCOP Abidjan 2017. "[Ingrid] showed me the first pilot that she created. I also had a pilot with me that we created for market…which I showed her." Mboutidem, like Ingrid, believes that festivals and markets are key to growth. "I have met more people in my industry… [it] has exposed me, educated me, and empowered me in this industry…."
This Pan-African collaboration yielded the fruit she had hoped for. "I gave them the opportunity to work on the second pilot…we won the ticket to get to Annecy." She wants to continue collaborating with studios from across the continent to produce the first season's 52 episodes. "I think if you have talent in animation and drawing on the continent why not use them? I have no problem working with talent from my continent." Prior to pitching she added a coproduction partner from Madagascar. "All of the partners, I hope to work with them further, always tell me that the concept is very good, but we need to improve the animation and design."
The African animation industry is not as well-known as those in other developing countries. She wants to show the world what African talent is capable of delivering world class content. The fact that animation is a resource-heavy endeavor is something that is on her mind when talking about the project. "I used to call it the African production economy…It doesn't mean we won't produce quality. It just means that is difficult to raise the funds to make the 52 episodes in the first season." She believes that the success of the project requires them to invest in African talent. "If we want to compete on a world stage we have to produce quality, and quality requires a lot of money. We believe that money brings in money".
The historical figure that was chosen for the pilot is Anne Zingha, an African queen that demanded excellence from her subjects and ruled with strength. Much like Ingrid she faced the odds stacked against her with an uncompromising determination. "Just tell the right history of this lady and you have a movie. I chose her because I was impressed when I read her story. I need to tell this story. There was no political meaning in choosing this character."
For all the talk about history it might make L'arbre à Palimpseste sound like a documentary series, which it is not. "[humour is] the vehicle that carries all truth." Ingrid explained about the tone of the series. The fun in the series is created around the techniques only animation can create. She wants to share something with children that she didn't have growing up "When I was [a] kid I missed [a show like this] a lot. When I grew up I didn't know about these historic figures. The people [with] whom I identify were not from my continent, or my country. It was very sad to realise that. To discover some heroes is very important to educate ourselves. It makes you look at yourself differently." She hopes that L'arbre à Palimpseste will add to the rich tapestry of world history.
Ingrid describes her willingness to make changes on the design and animation as key to winning the Gulli prize. But, she wasn't willing to compromise on the authenticity of the story to get it made. "I met a producer in France. He liked the project but [he said] why is it so important for you to only have black characters in your story?" Her reply was that there isn't any problem with being black. "My goal is to keep the history very strong…no matter what the animation and design is as long as the heart of the story stays strong."
At the moment she is still planning the logistics of going into production. She is excited that she has found partners through Animation du Monde who believes in L'arbre à Palimpseste as much as she does. "The theory, the pitching is now over, it's time to make it". And make it, she will.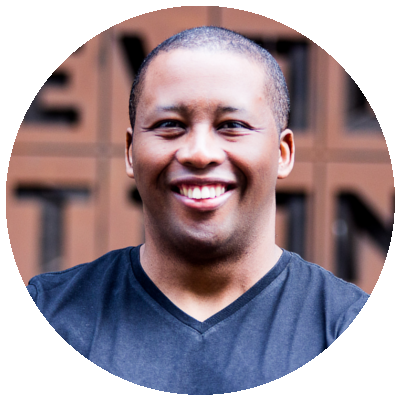 Garland-Waide Bradford has a career path that has varied from corporate work as a public relations manager in communications strategy to media work as an insert producer for factual television. These were purposeful choices to understand how to integrate creative choices with market requirements in turning content into brands. Growing up in a township meant that these educational opportunities were out of reach due to access and financial constraints. But, having paid his dues through work, Bradford is a dynamic thinker who owns a skills set that is third industrial revolution ready. He completed his BA Honours in Media Studies in 2017. His focus has been on media management and has been studying models of sustainability in the media for several years. He started his journey with the African Animation Network as Head of Communications in 2017 where he hopes to use his skills to empower aspirant animation professionals and member associations to further their global reach.