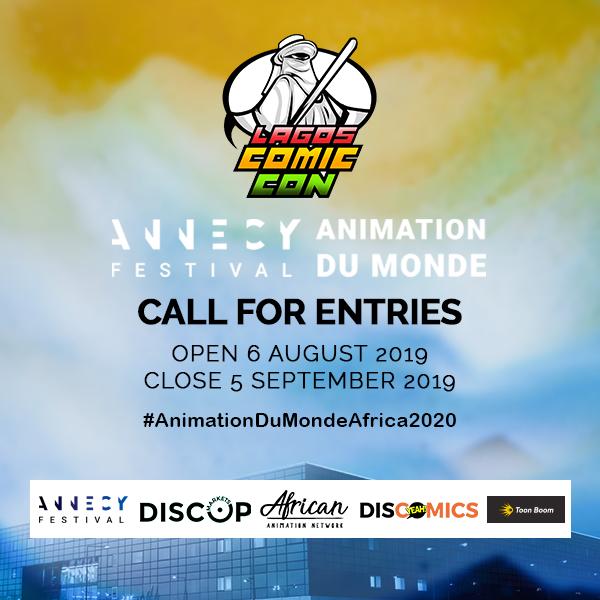 Animation du Monde 2020 ends Sub-Saharan run at Lagos Comic Con!

The Sub-Saharan circuit of Animation du Monde 2020 preliminary rounds comes to an end in Nigeria at Lagos Comic Convention (LCC) from 19 – 21 September 2019. With the penultimate leg having taken place over this past weekend at Nairobi Comic Con (NAICCON).
Entries for LCC are currently open, end 5 September 2019.
Once the LCC prelim is concluded, the next stop for the prestigious pitching competition is the Continental Finals at DISCOP Johannesburg in November 2019, where the 15 finalists (3 from each of the 5 regional prelims) will compete for the honour of being 1 of the 2 winners selected to represent the continent and compete against their global counterparts at Annecy Int. Animated Film Fest. & Market/MIFA (Annecy/MIFA) in 2020.  On the back of the recent news that Africa will be honoured at Annecy/MIFA 2020 as part of the Africa 2020 Creative Season, this represents arguably the biggest opportunity for African creators to showcase their talent and content on a global stage.
Nigeria is home to the largest comic book market in Africa. The creative industries have been able to leverage the largest population on the continent and the second largest film industry in the world by volume, Nollywood, to build this success. Although animation is fairly new to the region, an event like LCC has shown that there is a hunger for content from the continent. As a sister industry to animation, comics have been able to lay a solid foundation for creatives to work from.
As one of the oldest comic cons in Africa, LCC is a great platform for creators to showcase their work. Lagos is also home to some of the best talent West Africa has to offer. The maiden preliminary round of Animation du Monde hosted at LCC 2018, brought some of the best animation talent to the fore. Dami Solesi, one of the Continental Winners of the competition, came through the LCC 2018 prelim to pitch her idea at Annecy/MIFA 2019.
Dami had the following to say about her experience pitching against competitors from around the world at the Animation du Monde finals in France; "Going through the Annecy/MIFA pitches has opened my eyes to a new world of content production and how I can bring my ideas to life. From the onset at the LCC, my project was constantly being refined at each stage. At DISCOP Johannesburg, meeting with each of the experts and the infallible contribution that each expert made towards the project. They even provided opportunities beyond the competition and I'm still in communication with many of them as regards updates on my project. I believe every single creative who has an idea should definitely apply for this because going through the process, whether you win or not your project would be refined. And I believe that those lessons are invaluable to any creative as of right now!"
The budding animation industry in Nigeria is creating room for itself in its market of entertainment. It is going up against and working in tandem with the second largest film industry in the world by volume, Nollywood. Which is remarkable in an industry where most of the creatives are self-taught. And, have borrowed many processes from its sister industry, the Nigerian comic book sector. 
One of the entrepreneurs in the region is Mbuotidem Johnson, owner of Basement Studios, founder of Animation Nigeria and Animation du Monde participant at Annecy/MIFA 2018. He has this to say about his experience in the competition; "Whenever I am asked to talk about my experience at Annecy, I say it is 'Disneyland for filmmakers'. I had dreamed of going to Annecy for as long as I can remember, and I am glad this dream became a reality in 2018. My whole perspective of the animation industry changed. We had just completed the pilot episode of one of our projects (Adefellas) and were in need of funds to complete it. So I packed my bags and headed to DISCOP Abidjan 2017 in search of funding and distribution opportunities. While networking and exchanging ideas with other animation studios I met Ingrid Agbo, a Togolese film-maker with Nebularts in Paris. Ingrid was one of the top 9 semi-finalists for the Animation du Monde pitches at DISCOP Abidjan. She saw some of our work and decided Basement Animation would create a new pilot episode for her show L'Arbre à Palimpseste. We successfully completed the new pilot episode for Nebularts in time for DISCOP Johannesburg 2017. L'arbre à Palimpseste would eventually be one of 2 projects selected and received automatic entry into the Animation du Monde global program at Annecy 2018 where it won an historic presale from Gulli Africa!  What I appreciate the most about this sharing of experiences is that you get to listen to people who have experienced the same challenges that you are going through, and learn how they overcame these challenges. If you are thinking globally and want to be a part of the big move of animation in Africa, Annecy is the place to be!"
As Africa rises and many look to the continent's growth. Animation has a key role to play in the lives of audiences. Animation du Monde is the one platform that offers Africans the opportunity to showcase their talent on a global stage. It is also a space for creatives to learn, grow, and improve their projects to meet the needs of the market.
Don't let this final opportunity at LCC pass you by, enter HERE!
Subscribe to our newsletter and keep an eye on our Facebook page and website for news on when the preliminary rounds will be in your region!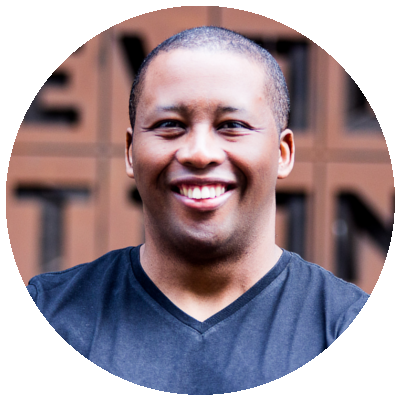 Garland-Waide Bradford has a career path that has varied from corporate work as a public relations manager in communications strategy to media work as an insert producer for factual television. These were purposeful choices to understand how to integrate creative choices with market requirements in turning content into brands. Growing up in a township meant that these educational opportunities were out of reach due to access and financial constraints. But, having paid his dues through work, Bradford is a dynamic thinker who owns a skills set that is third industrial revolution ready. He completed his BA Honours in Media Studies in 2017. His focus has been on media management and has been studying models of sustainability in the media for several years. He started his journey with the African Animation Network as Head of Communications in 2017 where he hopes to use his skills to empower aspirant animation professionals and member associations to further their global reach.