Animation du Monde 2020 at ICON Comics & Games Convention!



The 27th edition of ICON Comics & Games Convention (ICON CGC) is taking place from the 20th to the 22nd of April at Emperors Palace. It will host the first preliminary round of the Pan-African Animation du Monde pitch season. Contestants have until 15th of April to submit their project and can do so by clicking HERE.  Video pitches will be accepted for those not able to attend the preliminary regional round at ICON CGC however, candidates who are able to attend the event will be given preference.  The competition regulations can be viewed HERE.

Although this is only the 3rd edition of the competition, it has already created opportunities for African producers that haven't existed before. During the Animation du Monde 2018 finals at Annecy Int. Animated Film Fest' & Market/MIFA, Ingrid Agbo (from Togo) secured a pre-sale for her project L'arbre à Palimpseste which is currently in pre-production. Ingrid qualified with her project through the 2017 regionals run by the African Animation Network (AAN) at DISCOP Abidjan and won one of two places to represent Africa at the Animation du Monde 2017 Continental Finals at DISCOP Johannesburg.
Animation du Monde focuses on developing animation territories across the world and gives contestants the opportunity to participate at the highest level internationally during the MIFA Pitches programme. The MIFA Pitches are arguably the biggest animation focused pitching forum in the world and take place against the backdrop of the Annecy Int. Animated Film Festival/MIFA (Annecy/MIFA) in France.
The Pan-African Animation du Monde preliminary pitch season also creates opportunities for creators to build relationships with other African animation filmmakers. Ingrid is using the platform that the pre-sale she won has given her, to recruit talent from across the continent to work on first season of L'arbre à Palimpseste as she builds partnerships with broadcasters from across the world.
South African producer Isaac Mogojane, a MIFA Pitches Finalist in 2015 and MIFA Pitches Winner in 2018 (Disney Prize) shared with us his experiences in pitching at MIFA. " I have had the privilege of presenting projects at MIFA twice. The first time I was there was in 2015 when I presented the action/adventure series, Anansi. Last year, our second project, Junk Pilots was accepted into the global TV pitches category and this time round, it took home the Disney Prize. Presenting your ideas at Annecy and MIFA is a great way to build a profile around your project. Each year, the market gets bigger, more projects are picked up and more deals are concluded in Annecy. This makes it therefore a great platform to engage with the world about your creative vision and how you imagine it coming to life."
Animated short films and TV series have shown great potential to foster partnerships across the continent and globally. At the 2017 Animation du Monde Continental Final, Wendy Spinks' & Clea Mallinson's short film Mumue was selected, alongside Ingrid Agbo, to represent Africa at Annecy/MIFA 2018.  Although Mumue didn't win during the pitch sessions in 2018, Wendy went on to win the Digital Lab Africa NEF Animation – Nouvelles Ecritures pour le Film d'Animation International Residency with another project of hers I am Chuma. Wendy had the following to share about her Animation du Monde experience: "Pitching at Annecy/MIFA has been a personal goal for me for some years and it was a real humbling moment that it would come via Mumue, which is a project I know to have allowed myself, for the first time, to really bring forward my personal creative and authentic voice to rise above the priority for commercial viability of the project and to address a social cause I care deeply about."
At the 2018 Continental Finals held at DISCOP Johannesburg, The Troublemakers presented by Nildo Essa (of Mozambique) and The Makerbolts presented by Dami Solesi (of Nigeria) won the two places to represent Africa at the 2019 Animation du Monde Finals in Annecy.  Nildo shared some insights on his journey thus far: "We wanted to create little heroes that our children could relate to… and ever since then has been a very rough and hard road to go on because we don't have the ability to get aid from local entities or the government. We were able to compete in the prelims of the Pan-African Animation du Monde competition for Annecy 2019, we were one of the 10 chosen projects to compete in the Continental Finals… after some very needed guidance by the event's judges and mentors we were one of the winners and now we are going to pitch our series project Os Pestinhas or The Troublemakers at Animation Du Monde at Annecy this year!"

At the Continental Finals held at DISCOP Johannesburg 2018, all the finalists got to work on their projects with industry heavy hitters who were both judges and mentors. These included names like Alexis Ducord & Arthur de Pins (Co-directors of Zombillenium), Mike de Seve (Creative Director at Baboon Animation), Rathan Sam George (CCO of Toonz Media Group), and Géraldine Baché (Head of Projects at MIFA). As part of the Annecy – MIFA Animation du Monde – Skills Programme, a programme of workshops, masterclasses, one-on-one project evaluations and pitch practice sessions were run at DISCOP Johannesburg ahead of the Continental Final. Participants were given valuable insights into both improving their projects and their pitching techniques.
Through the DISCOMICS footprint– an initiative run by DISCOP Markets and AAN– and which includes partnerships with 3 of Africa's longest running comic conventions, AAN will be hosting 4 regional prelims in Johannesburg (at ICON CGC), Abidjan (DISCOP Abidjan), Lagos (at Lagos Comic Con), and Nairobi (Nairobi Comic Con).  Because, the partners are always looking to create new opportunities for creators across Africa, AAN has partnered with the Accra Animation Film Festival (AAFFia) to add a 5th regional prelim.
Subscribe to our newsletter and keep an eye on our Facebook page and website for news on when the preliminary rounds will be in your region!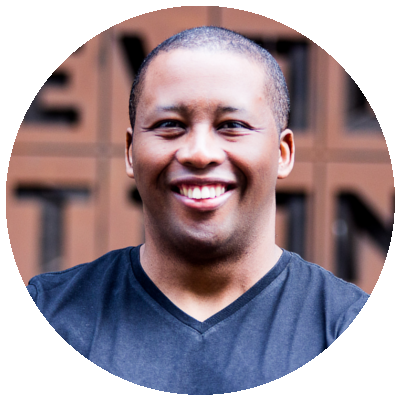 Garland-Waide Bradford has a career path that has varied from corporate work as a public relations manager in communications strategy to media work as an insert producer for factual television. These were purposeful choices to understand how to integrate creative choices with market requirements in turning content into brands. Growing up in a township meant that these educational opportunities were out of reach due to access and financial constraints. But, having paid his dues through work, Bradford is a dynamic thinker who owns a skills set that is third industrial revolution ready. He completed his BA Honours in Media Studies in 2017. His focus has been on media management and has been studying models of sustainability in the media for several years. He started his journey with the African Animation Network as Head of Communications in 2017 where he hopes to use his skills to empower aspirant animation professionals and member associations to further their global reach.