FUPiTOONS from Africa to the WORLD!
FUPiTOONS FESTiVAL 2019 (FUPiTOONS) is taking African animation to the world. Africa is the territory of honour at Annecy 2020 and FUPiTOONS will be part of the official program. This year's special call for content delivered a record harvest of 721 short films.
The African Animation Network (AAN) launched FUPiTOONS at The Zone in Rosebank in 2017. It was the first animation short film festival "Made in Africa for Kids". Since its inception the festival has traveled the length and breadth of the continent, from festivals to pop culture events to schools. 
20 films have been selected for FUPiTOONS 2019. The festival premieres at DISCOP Johannesburg next week, where the jury will have the unenviable task of deciding which of the 20 shorts will win in the various categories.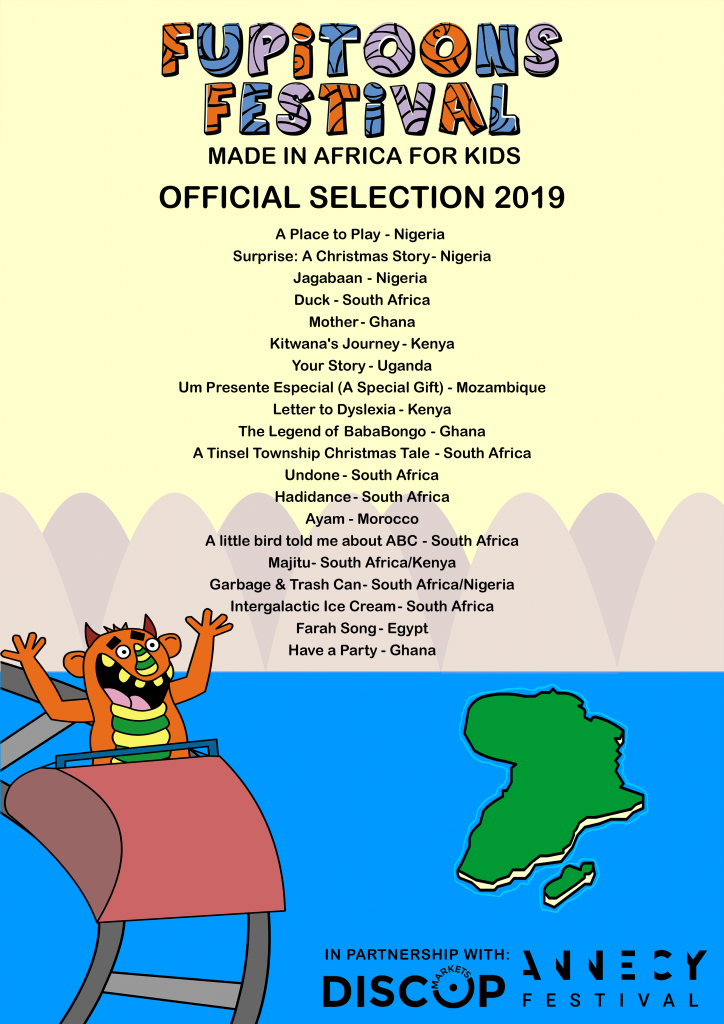 The jury for FUPiTOONS 2019 comprises 3 of Africa's shining stars in animation. Mounia Aram, born in Morocco but now living in France, is this year's Head Judge. She recently launched the production and distribution start-up Mounia Aram Company to focus on distribution of African and Middle Eastern animated content. With over a decade's worth of experience and passion for bringing content to screens across the globe, her focus has now shifted to Africa where she has also taken up a role at AAN as the Head of Content Acquisitions & Channel Distribution.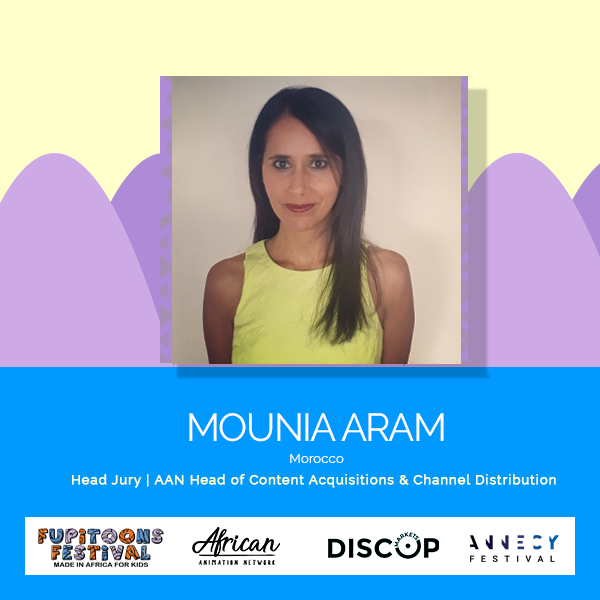 Diana Maria Rosu is the founder and Artistic Director of the Accra Animation Film Festival (AAFFia). AAFFia debuted in 2019 and has already contributed greatly to the growth and exposure of the West African animation industry. Born in Romania, Diana completed her studies in Europe, before moving to Ghana, bringing a wealth of experience having worked on a plethora of European festivals.
Cameroonian-Burkinabe, Doh D. Daiga, is a line producer, writer, cartoonist, animator, graphic artist, webmaster, trainer and teacher. He has a BSc in Film and TV Production with associates in Illustration and Animation. Doh is the Owner and Chief Creative Officer of Kinetic Arts and Human Technologies International (Kahti) and is an active member of the Burkinabè Association de Cinema Animation (ABCA), Kino Cabaret Ouaga and Co-Founder of the Creative Cultural Center.
FUPiTOONS, "fupi" meaning "short" in kiSwahili, has always dug deep into the African soil from its content to its jury. The aim is to bring content to the children of the continent that depicts characters they can identify with. Bringing recognition to creatives and their projects.
Annecy International Animated Film Festival & Market/MIFA is one of, if not the biggest, animation film festival in the world. Creatives from all over the world will descend on the festival and market in its 60th year of existence. This a great opportunity for FUPiTOONS, and the African animation industry, to attract this global audience's attention. While showing them what the continent is capable of. It's an advertisement showing the world, Africa is open for business.
Subscribe to our newsletter and keep an eye on our Facebook page and website for news on when the preliminary rounds will be in your region!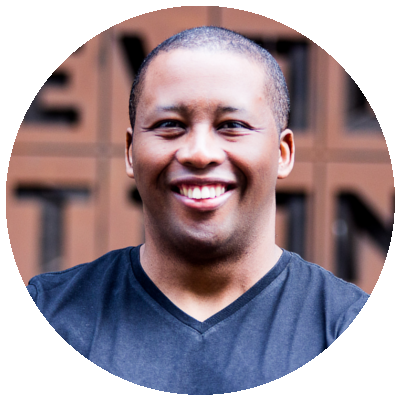 Garland-Waide Bradford has a career path that has varied from corporate work as a public relations manager in communications strategy to media work as an insert producer for factual television. These were purposeful choices to understand how to integrate creative choices with market requirements in turning content into brands. Growing up in a township meant that these educational opportunities were out of reach due to access and financial constraints. But, having paid his dues through work, Bradford is a dynamic thinker who owns a skills set that is third industrial revolution ready. He completed his BA Honours in Media Studies in 2017. His focus has been on media management and has been studying models of sustainability in the media for several years. He started his journey with the African Animation Network as Head of Communications in 2017 where he hopes to use his skills to empower aspirant animation professionals and member associations to further their global reach.