Andrew Phillips and Howard Fyvie's interview felt like a class in comedy writing. They riff off ideas for jokes, funny characters, or situations. It's way too early on a Saturday morning for most adults to have this much energy. But this is the childlike joy that they are injecting into the pilot their studio, Punch Monkey Studios is making.
One of their favourite characters is Punch Monkey. Andrew explains that "Punch Monkey… is literally a punching bag for this villain… who has a lot of anger issues." When it came time to register a name for their company this punching bag kept popping up. Howard explains, "There is a nice little coincidence to it. When you add jokes to a script you punch it up… which is a service we provide."
Perhaps Punch Monkey will make a cameo appearance in Punch Squad which they are developing with Turner Asia Pacific (APAC). "We are basically being paid by Turner to create an 11 minute pilot for our dream project," Andrew says. Punch Squad is about a group of B grade law enforcers in the form of a cookie, a girl, a unicorn, a cactus, and a strawberry. They protect Rex City with the ultimate goal of becoming a superhero team. There's just one little problem – they don't have any superpowers. "When we pitch it to people we say that it is Guardians of the Galaxy meets Doc McStuffins," Howard explains.
Andrew and Howard herald from Cape Town and have known each other for almost 10 years. But they didn't see each other as creative partners when they met. "Howard was this serious filmmaker, director guy, and he didn't see me as a potential filmmaker," Andrew explains. "And, equally I didn't see him as a writing partner" Howard explains. Their comic chemistry only started during their individual participation in the animation based competition, StoryLab. They didn't win, but they immediately got back on the horse and pitched their idea for what would become Punch Squad at the Turner Kids' Animation Pitching Competition at DISCOP Joburg 2016. This time they walked away with the prize.
They had won free accreditation to Annecy 2017 and $2000. Their show idea had also caught the eye of Turner Europe, Middle East and Africa (EMEA). Getting to the pilot stage wasn't guaranteed. They took the money they had won to improve their pitch bible. Andrew emailed 85 people, but only 17 responded to his emails and 14 agreed to take meetings with them. "You have to be open to all relationships in the beginning. It's such a huge, vast abyss that you are diving into when you want to make a show with a network." Howard explains. They were able to make an impression on Turner Asia Pacific. "When we met with Silas [Hickey, Senior Director, original production, and development APAC] we chatted with him for an hour without mentioning our show. He got to know us. He got to see our energy, our passion, and our humour" Howard says about their fruitful meeting.
Andrew and Howard believe that creators in the animation industry need to enter competitions like Animation du Monde. "We wouldn't have met Silas at Annecy if we didn't win at DISCOP 2016," Andrew explains. The most important part about winning was more invisible according to Howard, "We won a whole bunch of confidence between me and Andrew. People are taking this seriously. Someone from Cartoon Network is giving us notes on this thing. It must be a real thing if people want to help us shape it. So let's make it better."  The story has gone through many changes as the pair try to find the right balance. "Sometimes you have to work backwards to find what is the heart of the show. And, then you bury the heart in the middle of the thing you are creating." Andrew explains.
The pair advise that it is important to be willing to adjust to the input from networks early on in the development process. "A perfectly polished pitch bible will sometimes scare people off. Most of the guys want to get involved very early in the development process. A perfectly polished pitch bible, they are like err, what are we going to add to this? You have already gone very far in the wrong direction." Andrew says about pitching to potential broadcasters.
The pitch process is more about building a relationship than just trying to sell your project. "Sometimes you hear people when they are pitching. They aren't passionate about their work or themselves. They are monotonous. No one is going to buy into you." Howard explains. If it sounds like a job interview, it is. "You are going to be in a relationship with these guys for five years.' Howard continued.  Some networks like Cartoon Network want to work with the creator(s) of a project. "They want to invest in the creator, like more so than the project alone. There are other networks out there who are more interested in the project. So they might get you to develop the project to a certain place and they will say goodbye and give it to other creators to develop." He explains, "You might not be as good as you need to be. Sometimes they buy into you, but will mentor you till you are good enough to fit into their brand."
They started the process to create the pilot during Annecy 2017 after Turner APAC's buy-in. But pilots don't put food on the table. "We don't spend a lot of time working on the show. [The time we've spent] working on the show comes up to about 2 or 3 months" Howard said. Andrew is a scriptwriter for the Supa Strikas television series. At the moment it is the most successful animated series from South Africa. Howard writes and produces live-action videos.
When they do come together they work hard. Their creative process includes playing a game. The rules limit them to an eclectic mix of characters and situations. "You have all of these pieces, elements, characters together. How can we make each other laugh? So we just bash them together." Andrew explains. Even as they explain the process they start riffing jokes. It's effective, very effective. As they talk I couldn't help but laugh as they come up with one absurd scenario after the other.
Andrew and Howard know that making a pilot doesn't automatically mean they have a first season in the bag. At Annecy 2018 they had been shopping around for projects at different stages of development. "…you just don't ever know which one is going to hit…like anything where luck is involved the more you hedge your bets the more opportunities you have to hit on something," Andrew explains. They are taking everything in their stride and looking to the future with hope.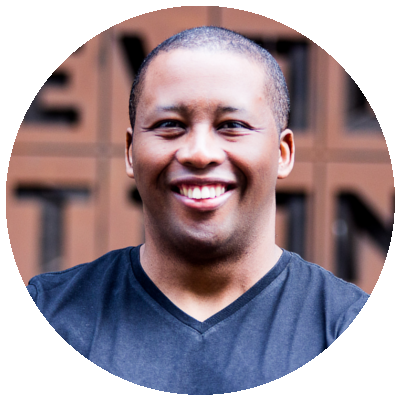 Garland-Waide Bradford has a career path that has varied from corporate work as a public relations manager in communications strategy to media work as an insert producer for factual television. These were purposeful choices to understand how to integrate creative choices with market requirements in turning content into brands. Growing up in a township meant that these educational opportunities were out of reach due to access and financial constraints. But, having paid his dues through work, Bradford is a dynamic thinker who owns a skills set that is third industrial revolution ready. He completed his BA Honours in Media Studies in 2017. His focus has been on media management and has been studying models of sustainability in the media for several years. He started his journey with the African Animation Network as Head of Communications in 2017 where he hopes to use his skills to empower aspirant animation professionals and member associations to further their global reach.